Oyama-jinja(Oyama-jinja Shrine)
 Oyama-cho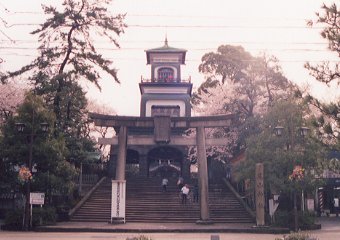 The magnificent,three-story entry gate of this shrine with its stained-grass window and layered Tomuro stone construction,is a symbol of Kanazawa city.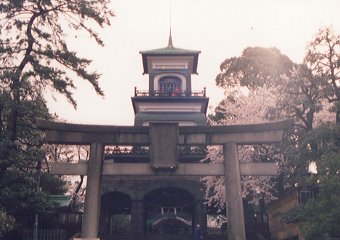 This building enshrines the feudal lord MAEDA Toshiie.
It was built in 1837 with the help of a Dutch teacher who was one of the first foreign residents in Kanazawa.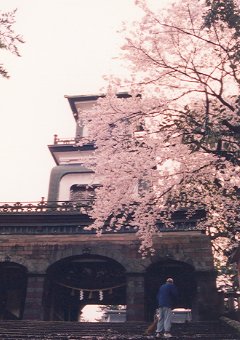 The shrine originally served as a lighthouse visible from the sea.
In spring,the surrounding grounds have a beautiful wisteria garden and on New Year's many people go there to pray.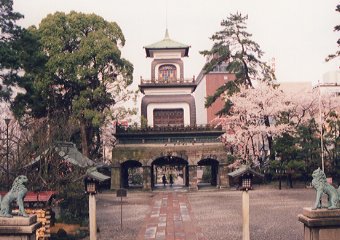 It is also a popular spot for couples to get married.

("Traditional Culture in Ishilkawa" Hokkoku-Shinbunsha,1997)
(1999-04-12)
In 2003,the KENROKUEN-KIKUZAKURA(cherry blossoms) were planted near this Shin-mon(God gate).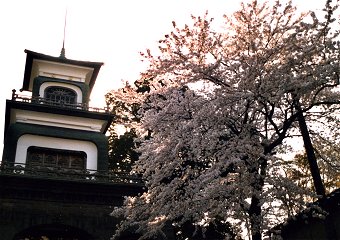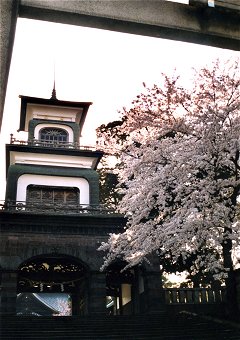 (2005-04-15)